Computer Troubleshooting, Service and Repairs
Your head is pounding and your heart is racing. A deadline looms over you, but you're staring helplessly at a "System Error" warning on your computer screen. Your machine has frozen up, you don't know why, and there's no one around to help you out.
Call DeKind Computer Consultants and you'll find RELIEF is on the way.
Microsoft Certified technicians, CompTIA A Network+
24/7 Live Support
Remote Monitoring
Support for platforms such as Windows 8 & Windows 7, Windows Server 2012 R2 & 2008 R2, as well as legacy systems running Windows XP, 2000, NT, ME, 98 and 95, Server 2003 or 2000, as well as Macintosh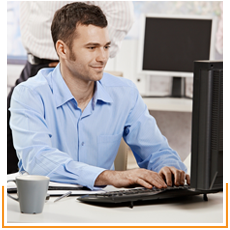 Troubleshooting and Repair:
---

---
We've taken the time to test and select the best solutions that money can buy: utilities and software that will return your machine to good health and protect it from recurring ailments. We can do all the troubleshooting, service and repairs for you and get you up and running as soon as possible. All you need do is give us a call.
Contact us today to speak to a DeKind technician or email us directly at support@dekind.com