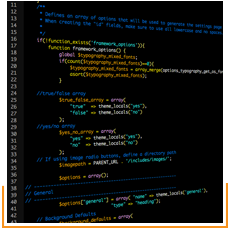 Helping you work smarter, not harder is our mission. Secure, easy to navigate and dependable applications for internal and external users aren't the result of luck – they are the result of experience.
---

---
We can help you leverage today's cutting edge technology by determining the issues that are fundamental to your business and which of the many available technologies can help you.
Our team of architects, engineers, developers and testers deliver useful solutions that enhance your ability to serve customers and manage data. When dependability is critical, you can trust our custom programming and application development. DeKind assists clients from initial requirements definition, to architecture design, application selection and integration, and development and deployment.
Our expertise includes:
Complete lifecycle development
Develop custom business applications, or enhance existing ones
System Upgrades and Maintenance
Web-based solutions for anywhere access
Design and development of open standards based systems, using Java/J2EE and Microsoft .NET technologies
Customization and integration of third-party software, including in-depth knowledge of leading application server technology
Design and development of content management systems
Training designed to increase productivity
Contact us today to speak to a DeKind technician or email us directly at support@info.com